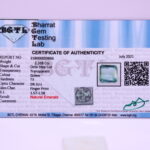 GREEN EMERALD GEMSTONE 2.318 CTS
Rs.14000
Green Emerald Gemstone is a green-colored, oval facet, highly precious gem of the Beryl mineral family.This natural Green Emerald Gemstone comes from Zambia and its load is approximately 2.5 carats. The dimensions are 10 x 7.9 mm (lx wx d).
Green Emerald is one of the most acclaimed gem in astrology and represents Mercury Planet in Vedic astrology worn for success in businesses and careers, knowledge seeking ventures, happy personal life, and creative pursuits or intellectual pursuits.
This 2.318 ctS Green Emerald gem is available in our site and can be shipped anywhere in the world.
Only logged in customers who have purchased this product may leave a review.